Freeview Playback firmware now released
Topfield has today released the new Freeview Playback firmware for the TF5800, version 5.14.08. This firmware makes the original TF5800 compliant with the Freeview Playback Group 2 specs, which means that you can record a whole series, with just a couple of button presses. It also allows the PVR to find alternate showings of programmes in the event of a clash, and adds some tidying up of on-screen messages to make the Toppy a little more friendly.
What's new?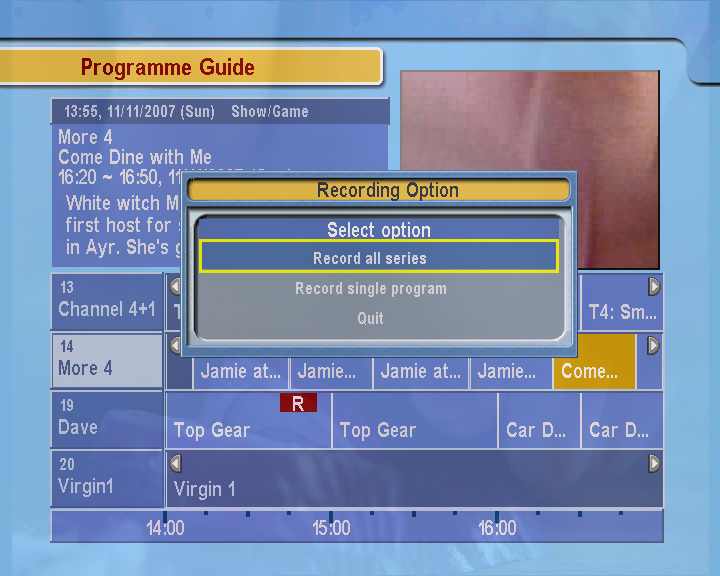 For most users, the key feature in this firmware will probably be Series Link, which means that you can select a programme from the EPG, press Record and if it's a series, you'll be asked if you want to record the whole series, or just that one episode, like in the screen shown here (click to see it larger).
If you set up lots of recordings, you'll probably be used to being told that there's a clash - but now the Toppy will give you more information about what's happening, and will either let you choose an alternate showing of a programme, if there's a repeat available, or let you pick one of the other programmes to delete. Don't panic if that sounds complicated - it's quite easy to use, and we'll shortly be publishing a Toppy guide that explains how to use these new features.
Another new element of the Freeview Playback system is called Accurate Recording, and it means that you don't have to worry if a programme starts later, or runs over – the broadcasters send signals to ensure that the PVR starts and stops at the right time.
Of course, not all broadcasters are perfect – and on some channels there isn't information for Series Links or Accurate Recording. In that case, you can set up recordings in the normal way, and you can still turn them into weekly recordings, handy for channels like Five and Virgin 1, which don't yet support Freeview Playback.
Still to come...
This is the first release of the Freeview Playback software for the TF5800, but it won't be the last. There are a few glitches, which will be covered in the related forum thread – and despite the many hours of testing, there may be some things that we didn't spot during testing. One caveat in particular is worth highlighting. In this version of the firmware, there are issues with TAPs setting timers, if you use the built in Series Link functions. So, we recommend that you set timers either using TAPs, or using the firmware, but not both. Topfield will be fixing this in the second Freeview Playback firmware, which is already being worked on, and should be available in the spring.
We'll provide more updates in the forums. If you do want to try this firmware out – it'll also be sent as an OTA broadcast in a couple of weeks – you'll find it to download in the Firmwares section of the site.
Before installing, we recommend that you read the linked forum thread via the bottom link in the right hand panel, which includes some essential information you must read.