Goldfish Screensaver
Download version 0.5 (updated 25/02/2009)
This TAP turns your TV into a virtual aquarium. Actually, it draws a few goldfish on a black background after a period of inactivity. They swim around a bit.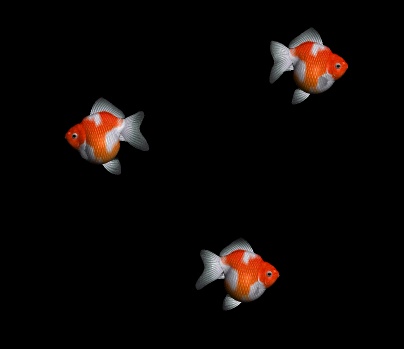 Just drop it in Auto Start and it'll start after a period of inactivity on paused TV, radio, mp3 playback, or a QuickBlank channel (LCNs 900-910). So that it doesn't interfere with startup or recordings, it won't start within the first 3 minutes of booting or if the Toppy has booted for a recording and no remote buttons have been pressed.
Interaction
| | |
| --- | --- |
| White | Add additional fish, up to a maximum of 10 |
| PIP Swap | Remove fish |
| Menu | Options menu |
Any other key will hide the screensaver and be passed to other lower priority TAPs, so for best results, place Goldfish.tap before your normal TAPs in the load order using TAP Commander.
Backgrounds
By default, Goldfish shows with a black background, however, pictures can also be used to make the screensaver look even more like an aquarium. Note: use at your own risk, you may experience screen burn if you use this option for a prolonged period.
Pictures should be placed in /ProgramFiles/Settings/Goldfish. They must be in bmp format, have dimensions of exactly 720x576 pixels and be 24 bit colour.
Configuration
You can configure various settings using the options screen. Settings are stored in /ProgramFiles/Settings/Goldfish/Goldfish.ini
Fish
You can choose to have between 0 and 10 fish on screen at any one time, their minimum speed and the overall animation speed.
Background picture
You can choose to have a black background, a picture that changes whenever the screensaver starts or a picture that changes after a time of your choosing.
Timeouts
There are independent settings for the time before the screensaver launches for radio, mp3 playback, pause, and QuickBlank channels.
Fade Delay
Fade delay settings control speed of the fade in and out effect when the screensaver starts and stops.
Known problems
The TAP uses 1MB of memory with a black background and 2MB with a picture. You may need to reduce the number of TAPs you run to get the picture background working.
If you press pause on live TV, the screensaver won't activate. This is due to a bug in the firmware.
Interactive (MHEG) is switched off during the screensaver. It takes about 20 seconds to reactivate after exiting.
History
0.5
Missing background bug fix
0.4
Minimum fish speed can be set
Reduced memory usage
Flashing screen bug fix
0.3
Background rotate
Settings screen
Goldfish.ini moved to /ProgramFiles/Settings/Goldfish/
0.2
Added background picture option.
Fixes for flashing display when MHEG is enabled.
0.1
Initial release.
Any problems? Contact me via the forums at toppy.org.uk .