Skin Builder
Version 2.5 (updated 05/01/2008)
Download Installer
Download companion TAP for Jag's EPG
Skin Builder is a small PC application that can be used to design skins for a range of TAPs for the Topfield 5x00 PVR range.
BobD maintains a library of skins on the MyStuff website.
Skinnable TAPs
If you'd like to use your own screenshots in SkinBuilder, simply place them in the same directory as the executable. Screenshots should be taken using a special screenshot skin which can be created from the File menu. You must turn off gradients. The screenshots should be saved in png format.
Skinbuilder in action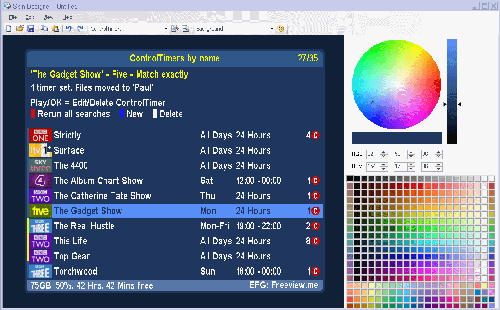 Installation
No configuration is necessary, just copy it to a folder on your PC.
Skin Builder requires the .NET 2.0 framework. It's a big download, sorry dialup users.
Any problems or suggestions? Contact me via the forums at toppy.org.uk .